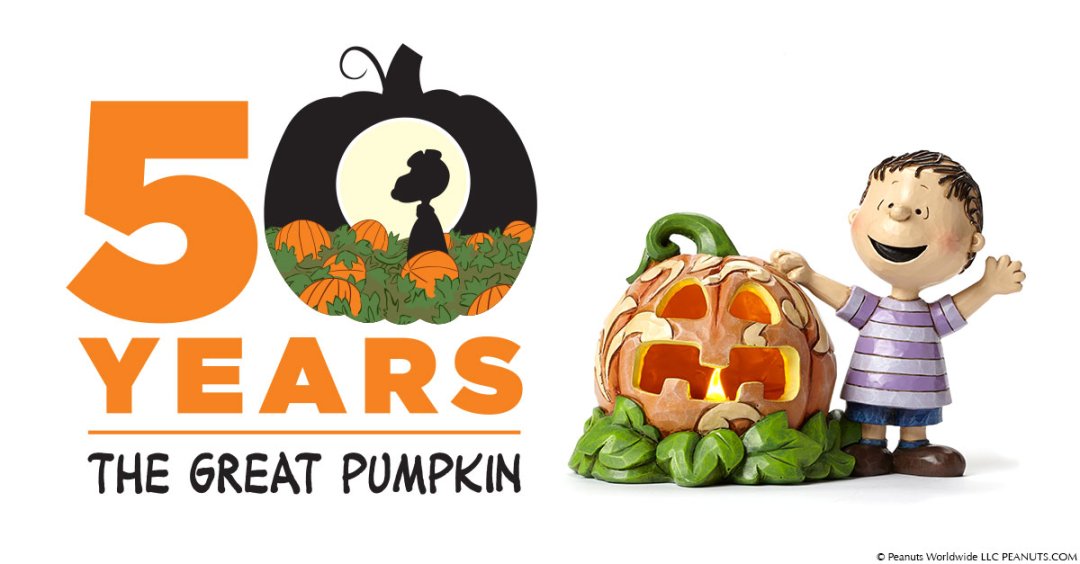 Children's television specials starring Charlie Brown and the Peanuts Gang began airing in 1965 with A Charlie Brown Christmas. The first special was so successful that CBS immediately ordered 6 more, including the third installation, It's the Great Pumpkin, Charlie Brown, which may be the all-time favorite. The history of the Great Pumpkin Halloween special includes a number of life lessons and memorable moments seen for the first time.
History of the Great Pumpkin
In the first three specials, Charles Schulz managed to cover three events that are uniquely "American." Our way of celebrating Christmas, America's favorite pastime, baseball, and the children's favorite, Halloween. Schulz felt that Halloween was a natural choice but he did go on to feature Thanksgiving with the next installment. The story of the Great Pumpkin is a unique spin on a child's belief in magical beings that appear in the night, to leave presents for good girls and boys. Though the Easter Bunny and the tooth fairy also fit into the category, the American version of Santa and Christmas are better analogies.
The Great Pumpkin television special opens with a trip to the pumpkin patch where Lucy van Pelt picks out the biggest pumpkin and forces little brother, Linus, to carry it home. Much to Linus' horror, Lucy yanks out the guts and carves it up to make a jack-o-lantern.
Charlie Brown's fall is not going well. While raking leaves, Linus jumps into a pile, destroying his hard work and Lucy entices him with her famous football gag. Knowing what is coming, Charlie Brown first resists, but like always, Lucy convinces him to try. She promises that "this time" she won't pull the football away and even signs a "contract" with Charlie Brown saying so. Perhaps she intended to let him try but at the last moment, she jerks the ball away and Charlie Brown ends up flat on his back like always.
When the story of the Great Pumpkin really begins, we see it is Linus' story. Linus believes that a Santa-like, Great Pumpkin will appear on Halloween night to leave presents for "good girls and boys." It is a singular belief but Linus thinks others should share. He makes matter-of-fact references to singing "pumpkin carols" and even writes a "letter to the Great Pumpkin," telling how good he has been. Linus' friends, most notably older sister Lucy, ridicule Linus – except for Sally who accompanies him.
While Linus and Sally wait, Snoopy is imagining himself as a World War I "flying ace;" he climbs atop his doghouse, imagining it to be a Sopwith Camel fighter plane, and takes off to chase the Red Baron. Snoopy crashes his imaginary plane, makes his way through the children's Halloween party, disgusting Lucy by kissing her in an apple-bobbing moment and goes on to lurk in the pumpkin patch. His sudden appearance convinces Linus and Sally that the shadowy figure is the Great Pumpkin.
When it turns out to be Snoopy, Sally yells at Linus for making her miss all of the Halloween fun and abandons him to join the others. While trick-or-treating, everyone got loads of candy, except Charlie Brown who got only rocks, leaving him confused and disappointed as ever but willing to try again.
As one would expect of a 7-year old, Linus falls asleep in the Pumpkin Patch. He shivers with cold, causing him nightmares, until sister Lucy in an unusual display of kindness, notices that he is not in his bed. She tracks him down at 4 am and escorts him to his bed. Linus is naturally disappointed, not only did he not see the Great Pumpkin, no presents were left for him. Unlike Santa, the Great Pumpkin is uniquely Linus' and despite his disappointment, Linus vows to wait again next year. The story of the Great Pumpkin closes with Charlie Brown rolling his eyes.
The story of the Great Pumpkin has been so successful because it told the story of Santa in a non-confrontational way that few could object to. It was typically "Peanuts" with Charlie Brown's troubles, Lucy's pushiness, Snoopy's aloof arrogance and had a number of "first appearances" for running storylines and gags.
Even though it has been 50 years since the first appearance of the story of the Great Pumpkin, it is still loved today. It airs every Halloween, usually two or three times, giving adults the chance for nostalgic memories while children become fond of the "ordinary boy," Charlie Brown.
Source: Wikia
Jim Shore is an award-winning artist whose popularity is the result of a lifetime of dedication, inspiration and plain old hard work. Jim grew up in the rural South as the son of artistic parents and grandparents who had an appreciation for American folk art. His first business, Designs Americana, grew large and fast enough that he had to partner with Enesco to manage the "business" of the business. This partnership allowed Jim to keep creating and today his designs are found in more than 25,000 stores worldwide, searched for 100,000 times per month, is number one on QVC, and producing over $1.2 billion in sales each month. One of his most recent design partnerships has produced the Peanuts line.
Jim says "the most rewarding thing I do is get out and meet the people I work for, people that share an enthusiasm for what I do. For an artist there is no higher compliment."
Share This Post!